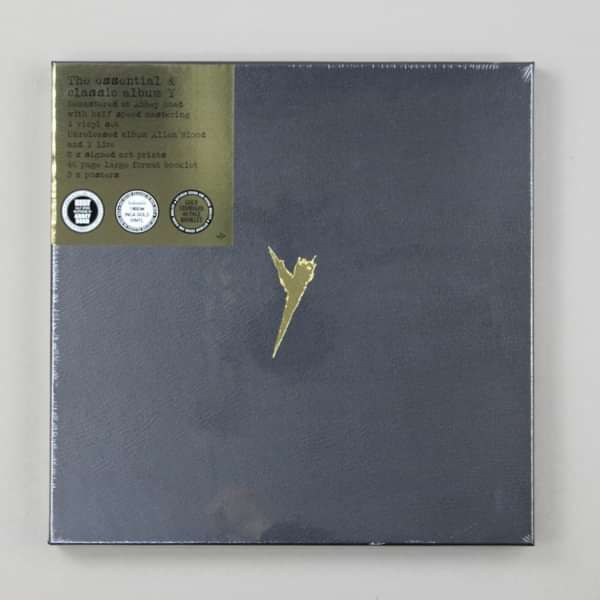 Y (Remastered Definitive Edition Signed Deluxe Inca Gold 4xLP Box Set)
LAST COPIES - Please note this box set is part of a limited edition run which is now almost sold out at source and in most shops
Y is the highly influential and innovative debut album by The Pop Group, released in 1979. In the same year The Pop Group released their debut single She is Beyond Good & Evil / 3:38
This is the 40th Anniversary Deluxe Inca Gold Vinyl Box Set edition of Y remastered from the original tapes and featuring the ten track album Alien Blood, and the live album Y Live.
Alien Blood is the result of the band's meticulous process revisiting the original 2" tapes of their studio sessions and recordings, unearthing never-before-heard material. Alien Blood reveals the life of Y before everything was finalized, exposing revelatory dimensions within these iconic works.
The Y Live album is an essential addendum to the original release, one that captures all the fierce urgency of The Pop Group's live performances at the time. Comprised of Y era recordings captured at a variety of locations including New York, Manchester & Brussels, Y Live exemplifies what had proved so thrilling about The Pop Group. A snapshot of a time when the group were sharing stages with future acolytes including Cabaret Voltaire, Linton Kwesi Johnson & Public Image Ltd, Mark Stewart describes the recordings as attempts to 'paint the impossible'.
Limited to 500
4 x Inca Gold Vinyl 180 gram
40 page 12" sized booklet
2 x signed art prints
3 x posters
Including Y album cut using half speed mastering at Abbey Road
Features debut single She Is Beyond Good And Evil remastered on 12"
High definition download of all audio
Y gold embossed plectrum
Tracklisting
LP1 - Y (Remastered)
Side A
Thief Of Fire (Remastered)
Snowgirl (Remastered)
Blood Money (Remastered)
Savage Sea (Remastered)
We Are Time (Remastered)
Side B
Words Disobey Me (Remastered)
Don't Call Me Pain (Remastered)
Boys From Brazil (Remastered)
Don't Sell Your Dreams (Remastered)
LP2 - She Is Beyond Good And Evil (Remastered)
Side A
She Is Beyond Good And Evil (Remastered)
Side B
3:38 (Remastered)
LP3 - Alien Blood
Side A
Kiss The Book
Blood Money (Slow Thief)
Don't Call Me Pain (First Mix)
Words Disobey Me (Dennis the Menace Mix)
We Are Time (Ricochet)
Side B
Thief Of Fire (Bass Addict)
Savage Sea (Sparse)
Boys From Brazil (Ridge Reels)
Snowgirl (Take 3)
Don't Sell Your Dreams ('A' Mix)
LP4 - Y Live
Side A
Thief Of Fire (Live)
Snowgirl (Live)
Blood Money (Live)
Savage Sea (Live)
We Are Time (Live)
Side B
Words Disobey Me (Live)
Don't Call Me Pain (Live)
Boys From Brazil (Live)
Don't Sell Your Dreams (Live)

Product shots courtesy of Mute Records, Boomkat & Bleep